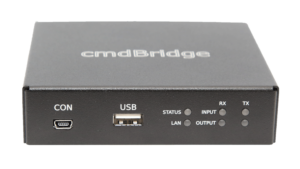 cmdBridge
£390.00 ex VAT
cmdBridge intelligent command protocol translator.
Each unit is supplied with;
2 x 5 way 3.5mm Phoenix headers for the serial ports.
1 x 2 way 3.5mm Phoenix header for the power in
cmdBridge is an intelligent command protocol translator.  Designed to help reduce management costs and deployment of AV systems' loan/spare stock.
For all the details and user manual etc., please see the cmdBridge website.
If you would like a trade quote, don't hesitate to contact us via the contact details on the cmdBridge website or the e-mail address at the top of the page.  Ensure you provide your company name and address details, including your country and quantity required.